Stock prices don't just reflect current performance, the numbers in comparison to expectations are much more important than the numbers in isolation. With this in mind, I'm introducing a new quantitative system for subscribers in my research service: The Data Driven Investor.

The Fundamentum system is a ranking algorithm that ranks stocks based on a multiplicity of variables focused around financial momentum. The system basically looks for companies that are consistently delivering both sales and earnings above Wall Street expectations over the past several quarters. In addition, the algorithm looks for companies that are generating increasing expectations on a forward-looking basis.

The main idea is quite simple, yet effective. If stock prices reflect expectations, and the company is generating improving expectations on a consistent basis, this should drive the stock price higher over time.

The backtested simulation picks the 50 highest-ranking stocks according to the Fundamentum system, and then it builds an equally weighted and weekly rebalanced portfolio with those names. The portfolio is assumed to have an annual management cost of 1%, and the benchmark is the Vanguard Total Stock Market ETF (VTI).

The numbers are quite impressive. The Fundamentum portfolio produced an average annual return of 25.86% per year since 1999, while the Vanguard Total Stock Market ETF gained a far smaller 6.68% in the same period.
Performance over different time periods also is quite consistent, and the Fundamentum portfolio is also crushing the market on a risk-adjusted basis. The system has a Sharpe ratio of 1 versus 0.37 for the market-tracking ETF, and the Sortino ratio stands at 1.35 for the system and 0.49 for the Vanguard Total Stock Market ETF.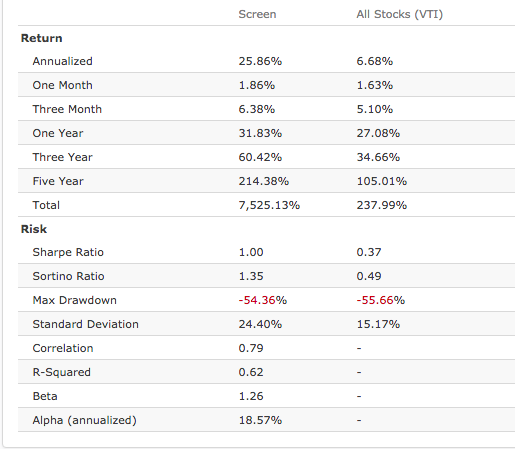 In plain English, a $100,000 investment in the Vanguard Total Stock Market ETF in January of 1999 would currently be worth around $338,000, while the same amount of capital allocated to the Fundamentum portfolio would have an exponentially larger value of $7.6 million.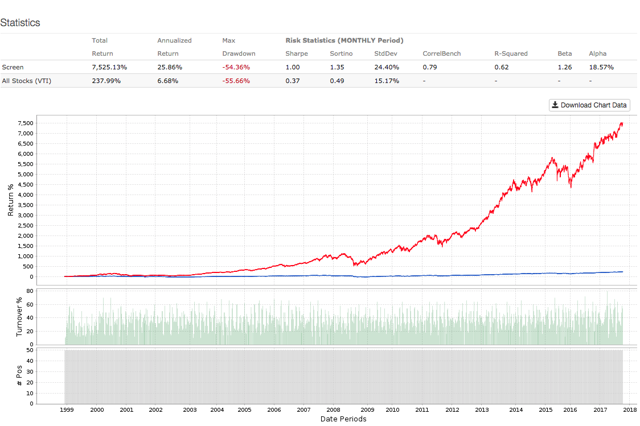 Data and charts are from Portfolio123 and the Fundamentum portfolio will be regularly updated for subscribers in The Data Driven Investor.
Case Study: Caterpillar Is On Fire
Caterpillar (CAT) delivered a blowout earnings report for the third quarter of 2017, with both sales and earnings coming in substantially above expectations.
Total revenue amounted to $11.4 billion during the quarter, increasing by 24.5% and outperforming forecasts by $770 million. Profit margins increased substantially during the period due to strong pricing and cost efficiencies. This allowed the company to produce $1.577 billion in operating profit during the third quarter of 2017 versus $481 million in the third quarter of 2016.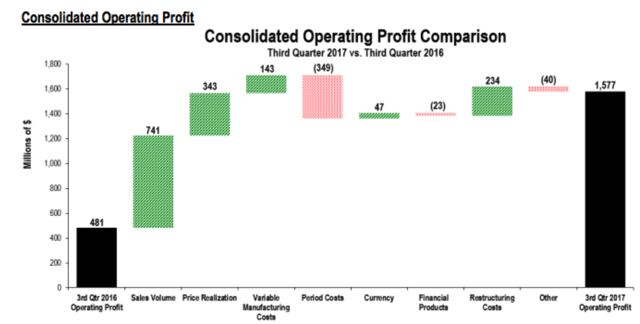 Adjusted earnings per share came in at $1.95, comfortably beating analysts' expectations of $1.27 in earnings per share for the quarter. In a sign of confidence, the company also boosted both sales and earnings guidance for full-year 2017.
Management sounded quite confident about business prospects in the earnings press release:

"Caterpillar continues to see strength in a number of industries and regions, including construction in China, onshore oil and gas in North America, and increased capital investments by mining customers. We are working with our supply chain to increase production levels to satisfy customer demand for those markets that have improved."
When analyzing financial performance, it's important to keep in mind that one quarter does not make a trend. Fortunately for investors in Caterpillar, the company has materially outperformed earnings expectations in the last four quarters in a row, so there is clearly something more consistent going on with the company.

| | | | | |
| --- | --- | --- | --- | --- |
| | 12/30/2016 | 3/30/2017 | 6/29/2017 | 9/29/2017 |
| EPS Estimate | 0.66 | 0.62 | 1.26 | 1.27 |
| EPS Actual | 0.83 | 1.28 | 1.49 | 1.95 |
| Difference | 0.17 | 0.66 | 0.23 | 0.68 |
| Surprise % | 25.80% | 106.50% | 18.30% | 53.50% |
Among the analysts following the stock, 23 of them have increased their earnings forecasts for the company both in 2017 and 2018 over the last 30 days. Caterpillar has not received any reductions in earnings forecasts whatsoever in the last month.
This degree of consensus among the Wall Street analyst community is quite unusual, and the magnitude of the upward adjustments in earnings forecasts also is remarkable.
The chart below shows the stock price and earnings expectations for 2017 and 2018 over the past year. As expected, Caterpillar shares and earnings forecasts for the company are moving in the same direction.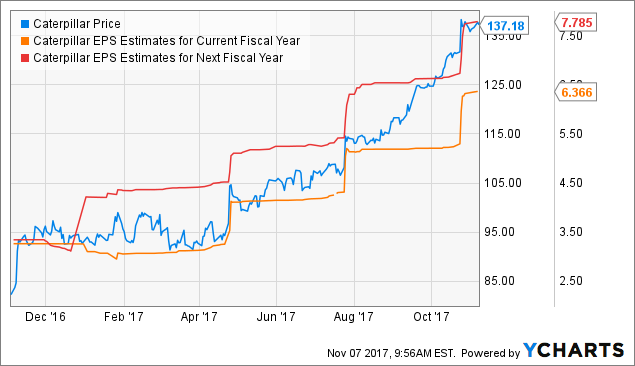 CAT data by YCharts
In order to see how the Fundamentum system would have worked in Caterpillar stock in real time, the following chart looks at the stock price in red (left axis) and the company's Fundamentum ranking in green (right axis).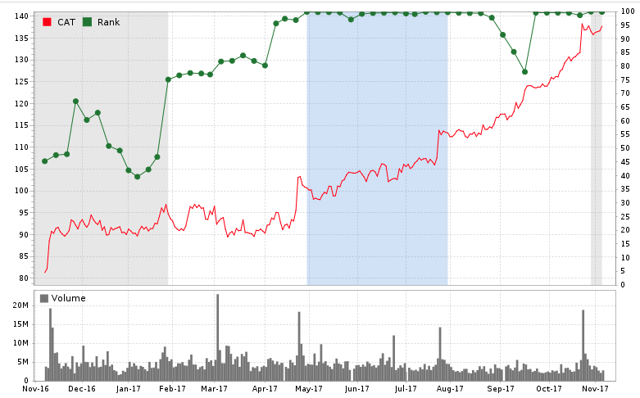 The stock price was still languishing around $90-$95 per share in February through April, but the Fundamentum ranking already was rising rapidly above 75. In retrospect, that would have been a great entry point in Caterpillar stock.
Over the ensuing months the Fundamentum ranking remained exceptionally elevated and the stock delivered explosive returns: Caterpillar has gained over 65% in the last 12 months.
On a forward-looking basis, Caterpillar stock is quite hot, so it makes sense to be patient when building a position in the name. That being said, as long as the company keeps crushing estimates and generating improving expectations, the stock should continue delivering attractive returns for shareholders in the middle term.
Disclosure: I/we have no positions in any stocks mentioned, and no plans to initiate any positions within the next 72 hours.
I wrote this article myself, and it expresses my own opinions. I am not receiving compensation for it (other than from Seeking Alpha). I have no business relationship with any company whose stock is mentioned in this article.